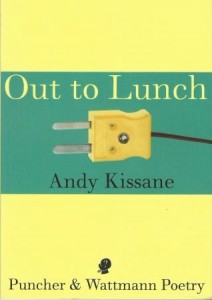 Out to Lunch
Out to Lunch is a literal feast for readers. Kissane takes the reader on picnics with literary characters Captain Ahab, Atticus Finch, Raskolnikov, and the fallen woman Anna Karenina, Emma Bovary and Tess of the d'Urbervilles; he confronts the joys and difficulties of family, parenting and death in "Visiting Melbourne"; and in "The Earlwood–Bardwell Park Song Cycle" he does for these inner city suburbs what Les Murray did for Buladelah and Taree. These are poems of conscience and gratitude, providing a sense of the momentous in ordinary things. This is a sumptuous smorgasbord of poems — moving, humorous and dramatic.
Buy now: $19.95

Reviews
To read a recent review published in Mascara Review, use the following link:Andy Jackson reviews Out to Lunch
"Andy Kissane's Out to Lunch, is remarkable for its range and accessibility. The poems nearly always have an important narrative element and there is an almost tripartite emphasis on lyricism, humour and political implication."
— Geoff Page, Canberra Times, March 27, 2010
"This collection is humorous, sharp, tender and generous. Each poem surprises with its ability to make meaning out of the everyday things or people. As if flicking through a photograph album or watching a series of home movies, the poems are talkative, reflective while traversing various landscapes and periods of time. The poet talks to us in different guises – as father, as surfer, doctor or time traveller. The conversations happen in a range of locales… a hospital, a cafe, on the beach, in a fibro shack.
Subjects are serious, often melancholy but they're also absurd, humorous and a rich imagining. A childlike perspective on life makes Out to Lunch a breath of fresh air in the solemnity of many other poetry collections that explore family dynamics and the elusive self. The poems are beautiful aural/oral creations… lovely to recite, perform and enjoy. Their trick, each time, is to throw in an unexpected or surreal idea, word or situation so the reader is never complacent or comfortable, even if we are out to lunch chatting in a companionable manner."
— Judges' Comments, NSW Premier's Prize for Poetry, 2011
"Some poems are very memorable in their precise stating of truth such as in the mini-sequence, "Visiting Melbourne"… This is a lively and amusing collection.
— Shelley O'Reilly, Island, No 124, Autumn 2011
A poem from Out to Lunch:
Chewing the Fat with Captain Ahab
Given my arthritic leg and the untimely disappearance
of his leg into the belly of Moby-Dick, vanishing
as quickly as champagne at a wedding, I thought
I'd have something in common with Captain Ahab,
that we might see eye to eye. But he is, to put it
mildly, a difficult man, only agreeing to meet me
on North Head on a day when a southerly buster
is blowing and the sea's littered with sullen surf.
Hardly the weather for a picnic. At first, I can't
find him anywhere, though I can sense his presence.
Occasionally I think I hear the words 'Avast'
and 'Flukes! man' floating on the wind. Finally
I find him, hoisted three-quarters of the way
up a Norfolk pine, staring out to sea. We
exchange greetings and I watch him swing
down from branch to branch with nonchalant ease.
I've already spread out the picnic rug and unpacked
the pickled herring and the beef jerky, but Ahab
isn't the least bit interested in eating, discussing fanaticism,
or ruminating on the parlous state of commercial whaling
in every country except Japan. He sways on the edge
of the cliff, balancing on his ivory leg, muttering
about a snow-white forehead and a speckled hump.
As far as I know, he's still there now, trying
to comprehend hate, the inscrutable sinew
and blubber of it, the rows of white teeth,
the open jaw floating up to meet him. His gaze
is so intense, as if he's staring down
the sun, but I can't imagine his face shining,
lit by the warm radiance of a smile.
Fiction

Writing Workshops