Every Night They Dance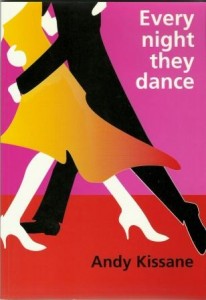 Every Night They Dance is an imaginative and powerful book from a poet who has a characteristic gift of inhabiting the voices of ordinary people and the courage to write with an affirming, death-defying spirit. The first half of the book contains a range of dramatic and narrative poems, while the tone in the second half is intensely, personal, lyrical and elegiacal.
Every Night They Dance is an outstanding collection of poems. Indeed, Andy Kissane by the example of this work is one of the strongest younger poets writing in Australia today.
— Judith Beveridge
Every Night They Dance is available from Collected Works Bookshop. Level 1, Nicholas Building, 37 Swanston Street, Melbourne. Phone 03 9654 8873
03 9654 8873 .
Reviews
"Of the numerous younger Australian poets who are shaping up to replace our so-called 'Generation of 68', Andy Kissane in his second book, Every Night They Dance, is proving himself one of the most versatile and technically accomplished. … When we put Kissane's almost telepathic empathy, his political subtlety and his humour together with his wide-ranging technical skills we have an Australian poet who is both a pleasure to read and a likely candidate for the best half-dozen or so of his generation."
— Geoff Page, Canberra Times, January 27, 2001
"Andy Kissane's poetry provides a wonderfully harmonious balance of opposites: the ordinary becomes extraordinary and the legendary becomes universal. … He has a profound gift for bringing the minute details of life into sharp focus… Kissane is a poet for Everyman — skilful, perceptive and wise and this book is a treasure."
— Sue Polites, Studio, No 85, Summer 2001-2002
"The different contexts are limned with an artist's and perhaps a scholar's care for the telling, inventive or historically accurate detail, but the strength is in the constructed subjectivities of divergent characters, far-flung in time, space and memory. Their tales unfold like hyper-lucid dreams."
— Kerry Leves, Overland, No 162, 2001
"The phrase 'no stone unturned' might best describe this book — it is wide-ranging and energetic, it doesn't see anything as closed to poetry. … Nevertheless the doubts are, in this sequence, overpowered by the writer's infectious interest in everything; it's as if Kissane has a project to fill in the chinks, to imagine his way into the stories that haven't yet been fully explored."
— Tracy Ryan, Westerly, November 2000
from Every Night They Dance:
Fanny Burney's Mastectomy, 1811
After my maid and one of my nurses fled,
I gathered up my reason and approached
the men. They stood around two mattresses,
covered by an old sheet. I lay down
and Dubois spread a linen handkerchief
over my face. I refused to be held,
but when, bright through the cambric,
I saw the glitter of polished steel,
I closed my eyes. I imagine they took
their orders by signs and made
their examination. I did not breathe.
Dubois tried vainly to find my pulse,
until Larrey said in a voice of solemn
melancholy, "Qui me tiendra ce sein?"
No-one answered, though Dubois held his hand
over me, drawing a line from top to bottom,
then a cross and finally a circle, indicating
the whole was to be taken off. I started,
threw back my veil and cried "I will,
sir," holding my hand under my breast.
I explained the nature of my suffering
which sprang from one point and darted
into every part. They listened in silence,
then Dubois replaced the veil. Again
I saw the fatal finger make the cross
and the circle. Hopeless, desperate, sadly
resigned, I turned my head and waited.
I cannot describe it, my dear Esther —
eyes so firmly closed that the lids dented
my cheeks, the knife raking the breast bone,
scraping. When the dreadful steel cut into me
I screamed — for all of the incision.
I almost marvel that I cannot hear it still.
Fiction

Writing Workshops