1. Do you remember the name and personality of the first character you ever created?
What springs to mind is a series of laments I wrote last century, set on different islands. The first one was written in my voice, based on a visit to Taquile Island in Lake Titicaca, Bolivia. The people who live there are Uros Indians, descendants of the Incas and they run the whole island as a cooperative. It's a lament about the limitations of tourism, about not being able to stay there long enough or fully understand the culture without a shared language. The second lament, 'Leaving Inishmore' is written in the voice of an Irishman who is cursing the arrival of tourists and foreigners; while the third, 'On Sarah Island' is written in the voice of a convict transported to Macquarie Harbour, Tasmania. I guess rather than a name, or a personality, which seems an intimidating thing to create from scratch, my way into character has often been through voice. It's through the speaking voice of a character that I began to write narratives, in both poetry and fiction.
2. What drove you to write the story which is in the Michael McGirr Selects series?
Initially, Love Bites was motivated by a desire to write about a strong woman, a scientist. I was interested in how difficult it is for women to pursue a career in science, how so many fields of scientific research are dominated by men, how women had to overcome discrimination and sexism, as well as the everyday challenges typically faced by working women. I was attracted to malaria because the search for a viable vaccine has been going on for at least thirty years now. As I wrote the story, I realised that the scientific journey wasn't really enough. I'm a firm believer in the adage that you often need more than one idea to make a story work, and the relationship between the mother and the daughter gradually started to become the focus of the story. I'm working on a short story cycle about three women who are friends—Anna, Svetlana and Penny. I already had some notion of the Anna's character from a previous story, but she's much younger in Love Bites, which was interesting, as I travelled backwards rather than forwards in the creation of a character's life.
3. How do you approach a new story? With a clear plan of where the narrative is going, or is it more of a 'well, let's see how this goes' kind of approach?
I never have a clear plan at the beginning. I often wish I did, but I tend to just start with an idea that interests me, like a scientist working on a malaria vaccine, a woman waiting for a man to propose, or two children living in a garbage dump in Phnom Penh. I think over-planning limits the capacity of intuition to do its job, that gut impulse that takes the story in a direction that is surprising. In the end, trial and error is the only method I use. If the story works it's great; if it doesn't, then I try to think through what might work instead, but the answer is almost always more gut instinct that anything logical.
4. Is there one particular author or book that you look to as a source of inspiration for your own writing? What are you reading now? Any recommendations?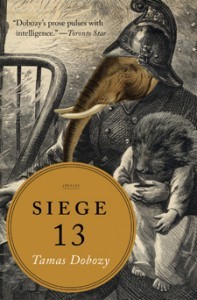 I believe that writing comes from other writing, as well as an openness to the world, so reading is a crucial part of the process. Recently, I've been impressed by two stories that deal with the subject of trauma, and it is now a subject I want to write about myself. The Canadian writer, Tamas Dobozy has a story in Siege 13 called 'The Animals of the Budapest Zoo, 1944-45'. It chronicles the experiences of the zookeepers during the siege of Budapest at the end of the Second World War. The story has elements that you might describe as magical realism, yet it is a magic that develops credibly out of physical and psychological trauma. Siege 13 is a short story cycle built around the siege of Budapest and the experience of ex-pat Hungarians in Canada in the years after the war. As a form, I'm very interested in the short story cycle, not just because I'm trying to write one, but because of the way that the short stories work on their own, yet also contribute to a whole that is more than the sum of its parts. I think it's a pity that really wonderful short story cycles like Jennifer Egan's A Visit from the Goon Squad and Elizabeth Strout's Olive Kitteridge have been marketed as novels. They're not novels, I want to argue, but I guess this is one genre war that the marketing departments are winning.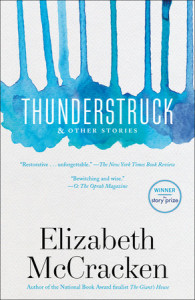 Elizabeth McCracken's 'Thunderstruck' in Thunderstruck and Other Stories dramatises the heartbreak of a family whose precocious and rebellious teenage daughter has an accident while drinking with boys. The story is centred around the father-daughter relationship and uses painting in a way that seemed original to me, and was also profoundly moving. 'Thunderstruck' is a searing and unforgettable story, a towering achievement in a collection that is consistently impressive and thoroughly engaging.
But perhaps the book that has impressed me the most recently is Joan Wickersham's, The News from Spain: Seven Variations on a Love Story. Another short story cycle in which seven distinct stories have the same title: 'The News from Spain'. In one story the news from Spain is what a character hears in a shell that has washed across the Atlantic Ocean; in another a woman receives a telegram from Spain informing her that her lover has been killed in a racing car accident. Although this trope gives the collection unity, what really unifies this book is Wickersham's unfailing ability to write love stories—usually love-gone-wrong stories—that are psychologically astute, absolutely compelling and that feel 'new'. This is a book about contemporary adult relationships, and reading it, I was blown away, not just by Wickersham's understanding of people, but also by her capacity to craft stories that pulse and vibrate with life. Wickersham's short story cycle deserves to be news—I cannot recommend it highly enough.
5. How does writing fit into your day-to-day life? Do you have any unusual writing habits? Any advice to share for those stuck in a writing slump?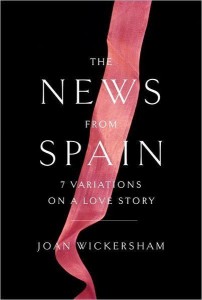 I tend to put off starting because writing is hard. I'm also not much of a morning person. I tend to write best when I'm in the rhythm, so I try to write whenever I'm not doing paid work. Some days are just horrible, but I've learnt over the years that if you tough it out, then good things can happen. Motivation is key—if you're not particularly motivated, it's hard to write and there's no boss standing over you to make sure you do it, at least in my house there isn't. Writing both poetry and fiction helps—if I'm bored with fiction, I can switch to poetry and vice versa.
I don't really believe in writing slumps or writer's block. I believe in what Lorrie Moore said in that wonderful essay of hers, 'Better and Sicker', that there is only 'the sick devotion to the work.' Moore suggests: 'Better to think of writing, of what one does as an activity rather than an identity—to write, I write, we write; to keep the calling a verb rather than a noun; to keep working at the thing, at all hours, in all places, so that your life does not become a pose, a pornography of wishing.'
For me the hardest thing is the first draft—pushing through the first draft is a bit like tunnelling through rock and hoping to eventually come up into the light at the other end. After that is done, revising is fun, it's a form of play, probably because I'm in love with the rhythm of sentences and the beauty of words.
For information about Spineless Wonders' innovative publication of  short Australian fiction in audio, in e-books and in print, go to Spineless Wonders.
"Short Fiction for an Absurd World" by Bronwyn Rodden
I feel compelled to start this review with something akin to a confession. The author has been a friend of mine for many years, her beautiful painting of the Shoalhaven River has pride of place in our living room, and a peppermint gum she gave us is now flowering in our backyard. The practice of mates reviewing mates is particularly common in Australian literature, perhaps especially Australian poetry, and more often than not, it results in reviews that read like overblown puffs—more back-cover blurbs than serious reviews. It is a problem that is obvious to insiders, but would easily escape the notice of many readers. Typically, these conflicts of interest are never acknowledged. The launch speech of a recent book of mine is now masquerading as a review in an on-line journal, something that the journal does not acknowledge. I'd be happier if they did, for they strike me as similar, but also very different beasts.
Discussing this issue with a friend who reviews for one of Australia's oldest literary journals, he suggested that you would have to be an iceman to honestly review your friends. There is a powerful but unspoken compact that the reviewer will be positive, that she will praise the book. Coupled with this is the problem that writers inevitably approach other people's work from the perspective of their own artistic practice. It might be a subterranean and unacknowledged perspective, but it's irreducibly there in the way they read, the way they think, the way they respond. I can't review a book of short stories without drawing on my own assumptions and prejudices as a writer of short stories and also as teacher of short story writing. Of course, the notion of an objective reviewer is a fiction—even the professional reviewers who only write reviews and nothing else carry their own baggage, though this is rarely, if ever, acknowledged. I recall that Dorothy Porter commented on the insular community of Australian writing while reviewing three of her contemporaries in the early 1990s and ended her review by saying that she needed to go have a Bex and a good lie down. The issue is still with us today, and although I don't have any answers, I feel better that I have at least articulated some of the questions. I will skip the Bex and the nap. Our literary community needs more reviewers, and for this article at least, I will do my best to become just that, aware, I hope, of some of the baggage that I carry with me on this journey.
Bronwyn Rodden's Short Fiction for an Absurd World is a book of eleven stories that, at times, deals with worlds that are comically absurd, though absurdity is only one hallmark of this fine collection and Rodden covers much more ground than her title suggests. The first story, "The Redemption of the Foliaceous Picture of Dorian Grey" is set in a modern office where the metamorphoses of the workers could be read as variations on the fate of Gregor Samsa in Kafka's famous story. The football man is transfixed by the blinding flash of the photocopier and cannot move away from it; the typist is moored to her typewriter; and the skin of the boss has started to "divide into columns of attendance records". Only two of the workers escape, one of them transforming into the plants she has lovingly looked after. This story deploys the logic of surrealism, where the fantastical seems possible, building to a climax that is vibrant, energetic and convincing.
"Rimbaud and Ward 15" depicts a narrator who pays the patients of a psychiatric institution from their trust funds and hovers around issues of madness and the restricting nature of health care. The anarchic reputation of Rimbaud and his affair with Verlaine is raised by the narrator as some sort of metaphorical comparison with the men she observes, but the intercutting between these two narrative strands is not as fluid as it might have been. The story lacks a central event and is much more a sketch than a fully-formed story. The point of the story seems to be outlined in the ending, when the narrator comments on Rimbaud:
"He didn't want evenness, plainness, put up or shut up, a do-what-your-told living. He wanted to scream out to the world that things should be better than they are, as people moved about him like domestic cattle, mooing when required, eating when the farmer gave them hay. He wanted to shatter the peace, uproot it, tear it out so people would at last, for once, do something: live, care, breathe." (24)
Howard, the focal character of "So Long, Chu Chu" is an angel who "always felt he'd lived his life on the edge of a chasm." He ends up in heaven where his love of the music of Gilbert and Sullivan and Rodgers and Hammerstein is satiated. His death, brought about from the bite of a rabies-infected Chihuahua, robs him of his wish to visit the Eiffel Tower. A special angel sends him back to live out this wish. This is a delightful comic story, narrated with an assured lightness; a story that is consistently charming and entertaining. My only quibble is that Howard's revenge on his nemesis, Chu Chu, which involves the Eiffel Tower, is only referred to in a few scraps of passing dialogue. I'm not sure why the comic possibilities of the story's climax were not enacted for the reader, but I certainly wish they had been.
Continuing the absurd and magical realist focus of the book's opening, "The Ritornello Principle" dramatises the hell of a musicologist, whose hi-fi system plays the despised Vivaldi's concertos on a non-stop loop. Confronted with a problem as immovable as Herman Melville's Bartleby, with his refrain of "I would prefer not to", the story's ending suggests that this hell is cyclical, that the repetition of musical terror is being repeated in other parts of the city. Rodden is a confident entertainer, one who clearly excels at the type of story that takes a seemingly innocuous premise and plays with the possibilities generated by both exaggeration and logic pushed to its extremity.
The tone shifts somewhat in the next story, "A Sensation of Falling". It is set in 1933 at the Allambie House guesthouse in Audley in what is now the Royal National Park in Sydney. There is a fine evocation of both place and time as Rodden portrays the difficulty that May and Harold face in consummating their marriage. They have a fear of physical carnality that might seem anachronistic in our highly sexualised modern world, but in this story their problem is convincing and engaging. The focus shifts deftly between the point of view of the two newlyweds and there is a memorable moment when the difficulty of undressing and dealing with all those stays, hooks, buttons and fasteners moves into a quietly human sense of elation. The story ends with a twist in the tale that I didn't see coming, a twist that O. Henry would have been proud of. Unfortunately, twist in the tale endings have a tendency to be both formulaic and can feel manipulative for readers, but this twist in the tale is psychologically astute, memorable and intriguing. This story deservedly won Westerly's Patricia Hackett Prize for short fiction. Rodden's book is worth purchasing for this story alone.
Returning to absurdity, the narrator of "Happy Valentine's…" wears a bridal dress, meets Victor on Fridays and is haunted by a previous relationship with Jack. Reading it, I was reminded of Hemingway's iceberg theory, where a story is strengthened by omissions and is like an iceberg, where only one-eighth of the iceberg is visible above the water. I don't know if the author was motivated by this theory, maybe she wasn't, but I wanted to know and understand more; I wanted to know more about the details of this absurd world; I wanted to be clear about what had happened by the end of the story. "The Cake Lady" is written with an anarchic energy, but the meaning of the story escaped me. "Death of a Weaver" is another piece that features metamorphosis and is well-executed, entertaining and amusing. "No Escape from the Rainbow" depicts the events in a theatre in a voice that struck me as authentic. I am not sure that I can explain this story, it is another one that deserves to be read, except to mention Graham Swift's suggestion that fiction "begins with strangeness". It is a strange, compelling and unsettling story.
The penultimate story, "The Green Chair" was a story that completely engaged me, involving Ed, who kills birds with a slingshot and Melody, who Ed helps to escape from a hospital. Ed works in a supermarket where he is teased by his female co-workers, in scenes that border on sexual harassment. The threat of Melody being returned to the institution where she was incarcerated hangs over the story, but the story's climax doesn't eventuate. As a story, it feels cut-off, rather than finished. Unresolved endings are trendy, but this story ends, not with a bang, but a whimper. The writer uses a metaphor of a green chair, in which Melody sits, but the final significance of the chair and the metaphor puzzled me. It's a pity, because it promised to reach the artistic heights of "A Sensation of Falling", yet stumbled at the last hurdle. The short story, because of its brevity, has been called an end-oriented form and this story highlighted for me the importance of endings. This is, of course, easier said than done, but I think it's true that a great ending often makes a story "great".
"Eating Clouds" dramatises a romance that begins in a supermarket and is continued in a laundromat. The narrator meets Mr White Overalls while shopping for dog food and there's a delightful comedy in the shortage of dog food, except for the unwanted tins of Chicken Chasseur. This story is dominated by three women who talk about the narrator's interest in the man's shoulders and whether it's his wife or ex-wife at the other end of the phone. Veronica is the narrator's "flatmate and ex-travelling partner" while Jane is doing night school with Waldo (the euphemistic nickname given to the supermarket man, after his fat dog). That's about all we learn about these characters. I wondered why Rodden didn't supply more background, more life information. Almost everything is dramatised, as if she was writing with a "show don't tell" mantra in mind. Yet anyone who has read the Nobel prize-winning short story writer, Alice Munro, will know that her stories contain copious amounts of telling, so that one learns a lot about the life of a character as well as following them through the story's featured events. As Gerard Genette suggested, showing is simply one form of telling, and its prominence in contemporary fiction is perhaps related to writers having one eye on the film of the book and accepting the mistaken emphasis of many creative writing teachers and workshop groups. In this story, I wanted Rodden to tell us more. The characters float in a kind of vacuum where what we know about them is largely determined by what they say and by their proper names. And it is curious that the proper names of the two central characters are not supplied.
Still, there is something to be said for a story that presents three women talking about men. I'm happy to be a fly on the wall in that situation and I found the story engaging and interesting. The climax of any rom-com is the moment when the couple actually get together, but when this comes, it is not dramatised by Rodden, but summarised: "We had sex, we had possibilities". That is an acceptable decision as I've just argued that not everything needs to be dramatised, but given that the dominant mode of the story is dialogue, the logical choice would have been to enact the climax of the story as dialogue. I wanted the three women to talk about what had happened between the two protagonists in much more detail than Rodden gives us. Instead, the narrator is defensive as her friends question her about why her beau still lives with his ex-wife. Maybe it is realistic that she wouldn't actually say much, but she could surely think what she is unwilling to say. Again, I felt this was a story where more attention needed to be paid to the importance of the ending.
Overall, Bronwyn Rodden's, Short Fiction for an Absurd World is a book that excels in dramatising the absurd moments of modern life, with flights into an imaginative and convincing magical realism. I think absurdity works best when it is grounded in realism, as Beckett does in Waiting for Godot. Estragon and Vladimir's situation by the solitary tree is absurd, but there is much that is richly human in their banter, their hopes, their need for food and comfort, their desire that Godot will eventually turn up. Similarly Rodden's absurd stories rise out of a realism that is consistently convincing. To my mind the best story, "A Sensation of Falling" is the one that is the most realist and least absurd, although there is something magical and psychologically astute about this story's superb ending. This aptitude with realism suggests that Rodden's recently published crime novel, The Crushers, would be well worth a look. Short Fiction for an Absurd World is a collection of stories where humour, imagination, narrative drive and a perceptive understanding of the human condition are to be found on page after page. It is a book that I'm glad I read; a book that deserves more readers.
Short Fiction for an Absurd World, by Bronwyn Rodden. ISBN: 9781499290042
Originally published in Rochford Street Review
Short Fiction for an Absurd World is available from Bronwyn Rodden's Amazon Author's page http://www.amazon.com/Bronwyn-Rodden/e/B005KBPW3O /ref=ntt_athr_ dp_pel _pop_1 or from http://www.bronwynrodden.com.
This is the first of a series of irregular posts (whenever I have time or the impulse to do them)  about short story collections or individual short stories.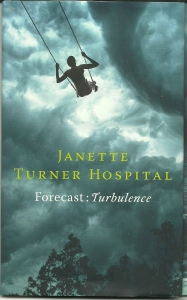 I have never been really convinced by Frank O'Connor's claim in The Lonely Voice that the short story typically deals with a 'submerged population group', with 'outlawed figures wandering about the fringes of society'. As a theory it seemed too neat—bound to apply to one story and not another. But reading Janette Turner Hospital's superb collection of stories, Forecast: Turbulence, I was reminded again of O'Connor's claim. All of Turner Hospital's characters seem to be outsiders. There's ten year old Lachlan from 'Blind Date' who although a ring-bearer at his sister's wedding, can't be trusted to walk in the procession because he's blind—a blindness that Turner Hospital skillfully evokes without explicitly naming. There's 'weird Rufus' who captains a whale-watching boat and talks to whales. There's a lonely computer nerd in one story and abused teenage girls in another. A high school theatre director, Duncan, who is arrested for sexually harassing his students in 'The Prince of Darkness is a Gentleman' sentences his daughters to years of being outsiders as they try to escape his notoriety. In 'Hurricane Season' a grandmother and grandson are literally marooned by an approaching hurricane. The characters in this book are certainly individuals living on the fringes, apart from a well-functioning and caring community.
The short story cycle, like the short story, is undergoing something of a resurgence. Internationally, Elizabeth Strout's magnificent Olive Kitteridge (2009) and Jennifer Egan's cutting-edge, A Visit from the Goon Squad (2011) both took out the Pulitzer Prize for fiction ahead of novels. Forecast: Turbulence was shortlisted for the Prime Minister's and The Age awards for fiction and won Queensland's Steele Rudd Award. Unlike Strout and Egan's books which derive their unity from one or two central, recurring characters, or Gillian Mears's collection Fineflour, which uses the setting of the river flowing through a country town as a unifying element, this book is structured around the repeated metaphor of turbulent weather. It works. When the police knock on the door to arrest Duncan, a tornado, both literal and metaphorical is unleashed into the lives of his family. But the less literal examples are more impressive, such as the girl into self-harm who cuts 'weather maps on my legs.' (103) The central metaphor is an interesting feature of many fine contemporary stories and Turner Hospital takes it one step further by using it as a unifying motif for this collection.
Janette Turner Hospital grew up in Brisbane and has lived for many years in South Carolina. This experience of two places and cultures is surely an asset for a writer. Turner Hospital makes use of it by setting the first three stories in Australia and following them with six set in North America, ranging from Canada to the Carolinas. Usually the language and idiom fit the story's locale. 'Dumpsters' for example, is a very American word that belongs in an American story. But occasionally Turner Hospital slips up. When Lachlan's father, Jim, returns to Melbourne from the Burdekin in Queensland in time for his daughter's wedding, he scoops up his son and 'the ring cushion rises like a snowbird in flight and hovers over Pamela and falls.'(19) In what is a masterful ending, the simile jarred for me. The story is colloquially Australian—the daughter says, 'I should tell you to bugger off, Dad'—yet a snowbird is North American. Although the additional connotation of someone who moves south to avoid winter and taxes seems to apply to Jim, the image of the snowbird can only be the author's. It is wrong, to my ear, at least. It's not that Turner Hospital is not careful with words, for her stories display a mastery of free indirect style, of the narrator's voice taking on the idiom of her characters. The other instance that jarred for me was the young, self-cutting Tiyah, fishing at a secluded creek and saying, 'It's private weather down here.'(118) Turner Hospital has already established the special meaning of 'private' in this story, but it's 'weather' that doesn't fit, that I can't really hear this character saying, that belongs to the author's central motif rather than a character's speech. These are clearly quibbles. It's a testament to Turner Hospital's art that they're rare occurrences.
The protagonist of 'That Obscure Object of Desire', Nelson, is another lonely outsider, a software designer who is infatuated with a lady in a green nightgown he watches every night from behind a tree in a park. The woman reminds him of Daniel Gabriel Rossetti's famous painting, Beata Beatrix. Like the Beatrice of Dante's poem, this Beatrice is also idolised, with Nelson making her not only the woman of his dreams, but the hub of a labyrinthine on-line game that he creates and that becomes a popular craze. But after an incident at an office party, Nelson withdraws further and further into a world of dreams and illusion with horrifying consequences. It's an affecting story of unrequited love, of a loner struggling to function in the real world. But as the story proceeds to Beatrice's death, Turner Hospital provides a twist in the tale that I didn't believe in. The 'twist in the tale' ending, which O. Henry made famous, is an ending that tends to foreground the cleverness of the author. When it works the shock of the twist feels organic to the story. When it doesn't work the reader feels manipulated by an author pulling strings. Here, the ending felt like a leap too far to me, a turbulence that comes from nowhere. In contrast, the title story, 'Forecast: Turbulence' details the return of a father from the Afghanistan war after a five year absence with a twist that is completely shocking and completely right.
Overall, this is a dark collection. The final story, 'Afterlife of a Stolen Child' is a moving portrait of Melanie and Simon, whose two year-old son, Joshua, is stolen from outside a bakery. Turner Hospital employs two first person narrators, one who gradually seems to be Joshua's murderer, one who years later identifies as the adult, stolen Joshua. It's a complex and thoroughly modern story, where the reader is forced to question the reliability of the narration and to wonder whose version of events can be trusted. It's also a harrowing portrait of the long term effects of guilt and grief and demonstrates how the short story, despite its length, can still accommodate a multiplicity of viewpoints. This is the story that should have ended the collection.
Instead, the book ends with a memoir, 'Moon River', that focuses on the author's colonial ancestors and the death of her mother. Apart from a brief reference to an Aborigine who is shot, the tone is also colonial, as Oxley, we are told, 'opened up the Liverpool Plains'. (227) It might well be the sort of the historical narration that Turner Hospital grew up with, but her memoir adopts rather uncritically the language and world-view of the colonisers. It's beautifully written, but dramatically dull and is a rather anti-climatic ending to a strong book. 'Moon River' was previously published in a collection of Brisbane stories and that is where it should have stayed. It is not like Michael Ondaatje's Running in the Family, where the entire book plays with generic diversity, but a blip on an otherwise coherent weather map.
Forecast: Turbulence is a diverse and confronting book. It deserves the accolades it has already received. It is powerful and compelling, demonstrating the range of the contemporary short story. My favourite moment is in 'Hurricane Season', when the grandmother, Leah, produces a box of photographs to peruse by candlelight. Steven, her grandson, picks out a photograph of an old lover, who rather magically rings her at the height of the storm on a phone resembling a nautilus shell. The story rises into a kind of magical realism where the turbulence of the hurricane replays the chaos of passionate love. Turner Hospital understands love, whether it's long gone but not forgotten, or the immediate everyday love of grandmother and grandson. It's a story about choices, those made in the present and those made in the past, and how they linger in people's lives. Just as good stories linger and stay with you, just as this book will.
Forecast: Turbulence by Janette Turner Hospital. Sydney: Fourth Estate, 2011, pp. 232, AUD$23.99 Hardback, ISBN: 9780732294441