Facing the Moon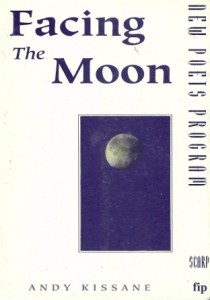 Andy Kissane's Facing the Moon introduces a fresh and exciting voice to Australian poetry. His poems are warmhearted, hospitable and gracious and yet also compelling and provoking. There are many strengths in this volume: a speaking voice which is genuine and luminous and a facility for detail and rhythm beyond the reach of less accomplished poets. This is a volume to be savoured and remembered.
— Judith Beveridge
He looks at the truth from a vantage point somewhere slightly over the top. This perspective makes his observations both fanciful and spot on. His voice is gentle ironic, sensuous and occasionally, like a few of characters, full of anger. Here is poet able to tickle the funny bone and prick the conscience, a a poet who understand the relationship between a light touch and a hard bite.
— Kristin Henry
Facing the Moon is available from Collected Works Bookshop. Level 1, Nicholas Building, 37 Swanston Street, Melbourne. Phone 03 9654 8873
03 9654 8873 .
Reviews
"Andy Kissane's Facing the Moon also shows a deft wit and a sharp mind at work. … Kissane can also bristle with pent-up anger as in the understated but effective comment on a police shooting, 'On Wearing White Safari Suits in Sydney', one of the most effective poems here with its cumulative imagery and chilling punchline."
— Penelope Nelson, Quadrant, April, 1994
"Kissane's rhythms are those of apparent speech, easy and sensuous in observation, sometimes veering into the surreal…"
— Tracy Ryan, Fremantle Arts Review, October/November 1993
"… for me the two finest poems in this engaging collection are the title poem and 'Fancy Footwork', both sonnets as it happens. … Kissane has a firm sense of structure and a lively sense of rhythm. And while he can exploit a comic perspective there is a serious metaphysical gaze pervading his poems."
— David Gilbey, LiNQ, October 1994
Facing the Moon
At the end where it's dead easy to cart trash over square leg,
with only a row of Norfolk pines between us and the road,
just short of a good length, where a googly grips and spins,
she kissed me. She lay on top of me and kissed me,
pushing me into the concrete, driving me into the concrete
as I tongue-kissed the Sea of Tranquillity.
Better than cramped tool sheds with the rake at your neck,
better than standing in the gravel in the lane
under the flowering bougainvillea, better than front porches
while parents sit in the car with the engine running.
The smell of damp grass, the Saucepan like a halo,
the sense of place and timing I had then,
kissing my love on the school yard cricket pitch
as the Moon bowled unchanged from the Nursery end.
Fiction

Writing Workshops