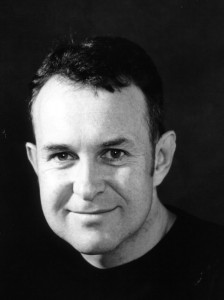 I am Andy Kissane, a writer of fiction and poetry. I have published four books of poetry: Radiance, which was shortlisted for the 2015 Victorian Premier's Prize for Poetry, the 2016 West Australian Premier's Prize for Poetry and the 2016 John Bray Poetry Award (part of the Adelaide Festival Awards for Literature); Out to Lunch, shortlisted for the 2011 Kenneth Slessor Prize for Poetry, one of the NSW Premier's Prizes for Literature; Every Night They Dance; and Facing the Moon, which won the Harri Jones Memorial Prize for Poetry. The Swarm, a book of short stories, was longlisted for the Frank O'Connor International Short Story Award. My first novel, Under the Same Sun was shortlisted for the Vision Australia Audio Book of the Year.
Other poetry prizes I've been lucky enough to win include the inaugural Publishers' Cup Cricket Poetry Award for "The Catch", the John Shaw Neilsen Poetry Award, for "Joy and a Fibro Shack" and the Red Earth Poetry Award for "Island Laments". I've been highly commended in the Place and Experience Poetry Prize for "Flight" and in the Broadway Poetry Prize for "Loaves and Days". I've also had podium finishes in the Gwen Hardwood Poetry Prize, the Newcastle Poetry Prize, the Tom Collins Poetry Prize and the Somerset National Poetry Prize. I won the inaugural BTG-Blue Dog Poetry Reviewing Prize for my review of Dennis McDermott's great book, Dorothy's Skin.
I love reading and writing short stories. "Love Bites", a new story, is available as an e-single from Spineless Wonders. Other recent stories can be read in The Review of Australian Fiction (on-line) and The Sleepers Almanac No 9. I've also written a second novel, Blood River which won the FAW Jim Hamilton Award for an unpublished manuscript, a book which I'm hoping to do more work on in the future.
I originally trained as a secondary teacher of English and Mathematics. I've worked in high schools and TAFE, and as a writer in residence at MLC Burwood. In the last ten years I've taught creative writing at the University of New South Wales, the University of Technology, Sydney, Macquarie University and the University of Western Sydney. I currently mentor writers of fiction, poetry and creative non fiction. I've run workshops on poetry and short story writing for the International Conference on the Short Story in Vienna, the NSW Writers' Centre, the ACT Writers Centre, Booranga Writers' Centre Wagga Wagga, Western Riverina Arts, Ashfield Library, Sydney Girls High School and Rosebank College. I've also worked as a community housing worker, an editor for the Australian Council of Social Services and a producer of audio books for the Royal Blind Society (now that's a dream job, a job where you're paid to read books all day and chat with charming actors).
I grew up in Melbourne, but moved to Sydney in 1987. I used to coach and play basketball until I badly tore the tendons in my shoulder. I still barrack for the Brisbane Lions, and have finished regenerating a hillside bush garden. I'm looking forward to harvesting the next crop of potatoes: Goughs (formerly Prince Edward, but renamed for Australian purposes) and Otway Reds.
The photograph below is from a March 2011 reading at Passionate Tongues in Brunswick and was taken by Michael Reynolds.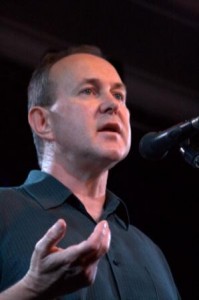 Fiction

Writing Workshops