The Swarm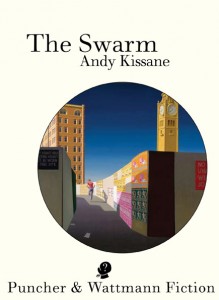 The short story is a daring thing, attempting in limited time and space to give us something big and memorable. This book of short stories is part of the resurgence of the short story form in Australian writing.  These stories offer a fresh take on the compromises, struggles and unexpected joys of life. Some of them have already been acclaimed for their  heart-stopping sadness, their ability to deal with emotional complexity and for their mesmerising capacity to make the reader care about these people.
What happens when three old friends from NIDA meet again? What is Marc Chagall doing in St Peters in the twenty-first century? Why does a young woman disappear in suburban Sydney? These people are governed by a swarm of impulses that hurl them into situations that are sometimes hilarious, sometimes heartbreaking. There's seduction by cake, a buried secret and the announcement of a pregnancy on a peak-hour train. In eleven stories, bound together by recurring characters, Kissane creates a fictional world that is familiar and strange, engaging and exhilarating. Ultimately, The Swarm is a book about love—the difficulty of finding love and hanging onto it in the face of the dilemmas thrown up by life.
"Andy Kissane's characters seek the sweetness at life's centre, often becoming the victims of their own naiveté. These are stories to savour, stories where the reader's own imagination will supply the final outcomes." —Carmel Bird
"Each story here conveys the skill, the art and generosity of a writer who respects both the form and his readers." —Tony Birch
"Kissane has the ability to draw you into the story, making you concerned to find out what happens and where his characters are going. This is quality storytelling." —Andrew Wilkins, Bookseller + Publisher Magazine
"This is a cohesive collection whose whole is more than the sum of its parts. Kissane's subject is human relationships… He is particularly good on the limits of understanding between two people and the ways in which those limits can, or can't, be negotiated. The last, longest and most ambitious of these stories, A Mirror to the World, is a strange and distressing story of great complexity that explores Kissane's other main preoccupation – the nature and the workings of art itself." —Kerryn Goldsworthy, SMH & The Age, 24-25 November, 2012.
"The Swarm is thoroughly readable and most of the stories draw you in. Kissane is a fine stylist, with a keen eye for detail: lines such as 'the brutal circumference of a bullet' remain with you long after finishing. This is a terrific addition to Australia's thriving contemporary short fiction." —Rebecca Starford, The Australian, 1-2 December, 2012.
"Less experimental, but fine literary writing just the same, Andy Kissane's The Swarm is a collection of engaging, insightful stories. Here are the middle class suburbs as we know them and relationships as they always were and will be. Frustrations, different agendas, foolishness, faithfulness, personal mini-dramas, traffic jams, males as lovers and losers—Kissane's stories are convincingly patched into the current of middle-class issues and aspirations. A couple get pregnant to patch up the relationship. A mobile phone call on a train tells the whole carriage of an unwanted pregnancy. A toddler drowns in the backyard pool and the father's cello practice provides the soundtrack. A woman makes an artwork of her vanishing, trying to save herself by cutting all ties. A father-daughter relationship, after the wife/mother dies, provides different agendas for moving on. These powerful stories relate the details of authentic experience. And there's minor experimentation here too: some stories are linked as discontinuous narrative and one—the final, 42-page story—is of unusual length, somewhere between a long short story and a novella." —Nigel Krauth, "A Year of Experimentation: Australian Fiction Moving On" in Westerly, Vol 58: 1, June 2013.
Blog reviews
Jonathan Shaw reviews The Swarm on his blog Me Fail? I fly!
Karenlee Thompson reviews for her blog and also for ANZ LitLovers LitBlog.
The Swarm is available from all good bookshops, from the website of the publisher, Puncher and Wattmann, or by clicking on the link below.
Buy Now: $24.95
Fiction

Writing Workshops