Australian Short Story Festival, Adelaide
3-5 November, 2017
I'm really looking forward to the 2nd annual Australian Short Story Festival, which takes place in Adelaide this November. I'm involved in a couple of panel discussions with two of my favourite writers, Rebekah Clarkson and Alex Skovron. Tony Birch is giving the opening address, while Rebekah is closing the festival and in between there are two jam-packed days of discussions, book launches and  readings completely devoted to the short story. What bliss!  All in all a fabulous program that you can find here:  Download the Festival Program
Radiance shortlisted for Victorian, South Australian & West Australian prizes
Shortlisted, 2016 West Australian Premier's Prize for Poetry
Shortlisted, 2016 Adelaide Festival, John Bray Poetry Award
Shortlisted, 2015 Victorian Premier's Prize for Poetry
Victorian Judges' Report
"Radiance is a perfectly titled collection – these poems shine with the wit and emotional warmth of Andy Kissane's writing. His power of poetic narrative sets up a fine balance between acuity of detail and action. People, places and events are portrayed with a calm yet unexpected strength of compassion, rich with intertextuality and intimacy.
Kissane is a masterful storyteller, playfully creating a dialogue between the poems and figures such as Virginia Woolf, the poets Keats and Shelley and even the characters of Tolstoy. These are lively and highly accessible poems, unhurried, unfussy and extraordinarily generous. The reader comes away uplifted."
West Australian Judges' Report
"The radiance is in the poetry Kissane writes, and the things he writes about. The work is often playful and always intriguing as it invokes the worlds the poet explores; sometimes domestic and personal, sometimes imagined and even surreal."
For more information, click on the link to the left to go to the Radiance page.
"Love Bites" now available as an e-single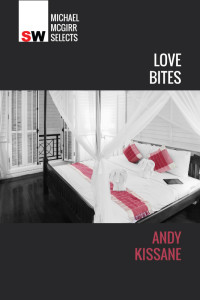 My new short story "Love Bites"  is now available as a digital e-single from publishers, Spineless Wonders. It was commended in the 2014 Carmel Bird Long Story Competition, which was judged by Michael McGirr, and is published along with  eleven other stories in the Michael McGirr Selects Series.
For more information, or to purchase the story go to Spineless Wonders.
You can read my interview with Spinless Wonders for their on-line Bookclub in their regular column here or in my latest blog post.
Thanks to publisher Bronwyn Mehan, and editors Linda Godfrey, Jennifer Leung and Nicole Langridge for their help in making this happen. It's great to have more avenues for writers to publish longer work and particularly for readers to enjoy the slow and satisfying burn of a story that is longer than a postcard.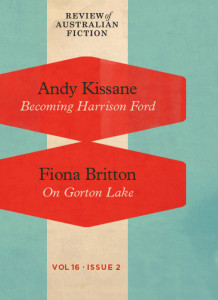 And speaking of longer stories, another new story "Becoming Harrison Ford" has just been published in October 2016 as part of latest edition of the REVIEW of AUSTRALIAN FICTION, along with Fiona Britton's arresting and moving story, "On Gorton Lake".  RAF was founded in 2012 and publishes two stories every two weeks. Each digital issue features the innovative format of pairing an established author with an emerging one. You can read both stories for $2.99 or subscribe to 6 issues of this brilliant journal of Australian short fiction for $12.99 here.
Live Poetry Reading
In 2012, I toured Ireland and London with three other Australian writers, Alex Skovron, Alison Wong and Robyn Rowland. One of my favourite readings was at the famous poetry venue, Ó Bhéal, upstairs at the Long Valley Hotel in Cork. Here's an MP3 recording of my reading on September 17. Guest-Reading-Andy-Kissane
Coriole National Wine Poet
In a brilliant initiative, Coriole Vineyards, from the McLaren Vale area of South Australia have released a six pack of their 2011 Cabernet Shiraz with six of my poems on the back labels. The poems deal with a variety of subjects, from cycling along the Cooks River near where I live, to dropping that catch in cricket, to what happens when you cross ballroom dancing with Australian Rules football. There's an ode to rhubarb, a lyric in praise of fish and chips on Friday nights and parodies of some very famous poems in "The Humble Sausage".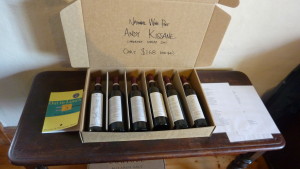 Poem to Film
"The Station Owner's Daughter, Narrandera", a poem from my second book, Every Night They Dance, has been adapted and developed into a seventeen  minute film, Ngurrumbang, directed by Alex Ryan. The film tells the story of a massacre of Indigenous people that took place near Narrandera in the 1830s.  Goosey, a farmyard goose, who features at the start of the poem has been replaced in the film by Myrtle, a fine looking cow, but apart from that, much of the story I told in the poem has been retained and improved on by the filmmakers. The film has been shown in competition at the Sydney, Brisbane and Adelaide Film Festivals, at Flickerfest and at the Semici Film Festival in Valladolid, Spain in the last year.  Congratulations to Adam Howes, the cinematographer, who won a gold medal at the Australian Cinematographers' Awards and to everyone involved in making such a powerful, dramatic and beautifully looking film. I was in Leeton, which is just near Narrandera, in October to run a short story workshop and met a number of people who were familiar with the story and knew the whereabouts of Massacre Island. Here's hoping that Ngurrumbang will be screened sometime soon at Leeton's historic art deco cinema and will find the broad and appreciative audience it deserves.
The Swarm is here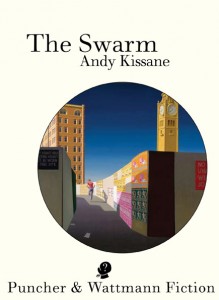 I'm getting good feedback about my new book of short stories, The Swarm, which was published by Puncher and Watmann in October 2012. This book of contemporary short stories is largely set in Sydney, except for a couple of stories that travel to the asbestos mine in Wittenoom in the 1950s and frontier Rockhampton in Queensland around 1860. The Swarm was longlisted for the Frank O'Connor International Short Story Award in 2013.
For more details, links to reviews, or to purchase the book, go to: The Swarm page.
Fiction

Writing Workshops