This is the speech I gave when launching 4W New Writing 26 at Gleebooks in Sydney on 21 November 2015.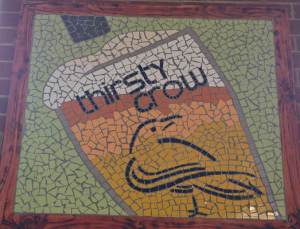 The Thirsty Crow, a boutique pub in Wagga Wagga that murders thirst, (they obviously have a good writer working on their publicity) has on its dinner menu, the following: Hawaiian Lava pizza. Ultra hot. Quadruple exclamation marks. And the following advice in red ink: "Do not order this pizza. It's far too hot for you. Do not come back and tell us it is too hot. Do not try and be a hero. Do not eat this, you will not enjoy it."
Well as I grow habanero chillis, one of the Hawaiian Lava's ingredients, and as I am a chilli fiend and know how hot they are—I couldn't resist the challenge laid down by the menu. I wanted to be a hero. And I can faithfully report back to you that this pizza is too hot and I did not enjoy eating it. Though I did eat most of it and the waitress was duly impressed. I told them later that it was too hot and they said it was just meant to be a joke, that people weren't really meant to order the Hawaiian Lava.
Wagga Wagga is a town, a regional city, renowned for its jokes. There is, for example, the five o'clock wave on the Murrumbidgee, caused by the release of water from the Burrinjuck and Blowering dams, a wave that arrives promptly each day at five o'clock, and if you're any good you can ride it all the way to Narranderra, one hundred kilometres away. I checked it out while I was walking beside the river and I can faithfully report that it is indeed a whopper and that you could do worse than to catch it, if you ever need to get to Narranderra.
I was, as some of you may know, lucky enough to be a writer in residence at Booranga Writers' Centre in September this year, where I experienced the generous and marvellous hospitality of the Wagga writing community. Before you come to the conclusion that I spent all my time in The Thirsty Crow, where the beer is great, or the rest of my time surfing the Wagga break, where the waves are huge, let me turn to my anointed task for today, the launching of fourW.
As I understand it, fourW stands for Wagga Wagga Writers Writers and I love the joke that is inherent in the title, I love the repetition. In one of his essays: One Body: Some Notes on Form, the American poet Robert Hass writes: "The first fact of the world is that it repeats itself. I had been taught to believe that the freshness of children lay in their capacity for wonder at the vividness and strangeness of the particular, but what is fresh in them is that they still experience the power of repetition…" The first fact of Volume 26 of fourW— an impressive number and may there be 26 more—is that the magazine includes two forms of writing that are close to my heart—the poem and the short story. In some senses that is where the repetition stops, for my overall reaction to the new writing in this distinctive, idiosyncratic magazine is to be astonished by the vividness, the freshness and the strangeness of the work, and to approach it with a kind of wonder. I can't possibly manage to convey all that is surprising and arresting about this issue of fourW, so if you're here and I don't mention your work, please don't be offended, there's a bias in my desire to talk about the discoveries I've made, rather than the established writers whose work I have long enjoyed and admired.
Magazines such as fourW are crucial to the development of new writing and new writers and without the early successes that these magazines offer, most people would prematurely stop writing. I certainly would have. The importance of fourW to the Riverina is noted by David Gilbey in his incisive editorial, but one of the things that struck me about issue 26 was the breadth of the catchment area. Sure there are writers from Wagga Wagga and Albury, Melbourne and Sydney, but there's also work from people who live in Western Australia, Queensland, South Australia and Tasmania and internationally, there are writers from Newhaven and Newcastle in the United Kingdom and Phoenixville and Minneapolis in the United States. I am reminded of the American poet, James Wright, who wrote in "The Minneapolis Poem":
But I could not bear
To allow my poor brother, my body, to die
In Minneapolis.
The old man Walt Whitman, our countryman
Is now in America, our country,
Dead.
But he was not buried in Minneapolis
At least.
And no more may I be
Please God.
I want to be lifted up
By some great white bird unknown to the police,
And soar for a thousand miles and be carefully hidden
Modest and golden as one last corn grain,
Stored with the secrets of the wheat and the mysterious lives
Of the unnamed poor.
Reading the poetry in fourW is like being lifted up by some great white bird and carried aloft to witness Rob Walker's concern for the railway children beside Darjeeling station, then sliding with Bronwyn Lang under Long Feng bridge in China, before hovering with Les Wicks in Darlinghurst, as the speaker of his poem struggles to deal with the death of her baby boy. "I will live without compartments" she decides at the end of what is a harrowing flight. fourW is not just international in terms of the writers published, but international in terms of both its subject matter and the quality of its art. But, I must admit, I was astonished by the number of writers who live overseas and are in this issue. Can I just check if any of them are here today? … No, good. Then let me just say that I thought the work of Australian writers was more impressive. But I'm not parochial. One international standout for me was Adam Day's moving poem, "Dead Friesian in Winter" which is carried by its finely tuned observations.
Turning again to the Australians, Joan Cahill's "The Rose Shredder" utilises the native bug, the Riverina rose shredder as a metaphor for male sexual conquest, a leap that I found truly surprising and reminded me of the idea Robert Bly develops in his essay "Looking for Dragon Smoke" of the long floating leap, perhaps from the conscious to the unconscious, that exists in a work of art. Leaps also abound in Julie MacLean's poem "Prize Collection" where the speaker suggests, "you have pinned spiders/ to my eyes in celebration/ of our lifetime together." You must read this poem, it's a beauty.
There are a number of poems that deal with war. There's Albury poet Phillip Muldoon's vivid dramatization of the after-effects of the Vietnam war, Maurice Corlett's moving elegy to his great Uncle Tass who died in the evacuation from Dunkirk, and David Gilbey's ekphrastic series, "Shrapnel". This series avoids the common trap of writing about art works, where the poem becomes merely a description of the painting. Instead, Gilbey uses the art works as triggers for his imagination. In "Shrapnel 4" he evokes the difficulty of living with someone who has returned from war: "You didn't mean to hurt me, but your eyes looked through my face/ to other faces."
Derek Motion's "Density" received this year's fourW prize for poetry. It's a poem that I think Robert Bly would admire, where the speed of leaping is fast, taking us from a semi-black bra outline under a white shirt, to Anzac dogs, to the ambient potential of a startled wallaby, to a country girl and to the smell of rain passing the gums. It is a poem which embodies its title, an exploration of the density of the mind and Motion demonstrates the ability to associate quickly and move from the present to memories and back again with a control and a rhythm that carries you along. It's an intriguing poem, where something it seems, happened in the long grass. I gather this long grass occurs in the Riverina. Interesting. Read it. And read the many other fine poems printed in this anthology.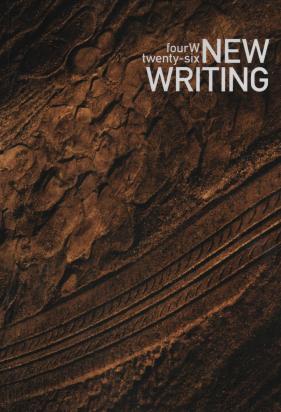 The work is organised alphabetically by author name, though reading fourW I was struck by a number of surprising resonances, as if one contributor was writing back to another. There are many fabulous short stories published here. I was impressed by Sean O'Leary's "Nowhere", a tale of police pursuit and revenge set in central Australia and involving both Indigenous and white Australian characters. The evocative cover of fourW with its tyre marks and footprints is suggestive of this story. In what has been a violent week for world citizens, "Nowhere" confronts the interesting problem of how to write violence, not the sort of stylised violence that Quentin Tarantino excels in, but realistic violence that impacts on the lives of people. There's a long history of writing violence in literature that goes back to Homer's Iliad. The French philosopher, Simone Veil wrote:
'To define force — it is that x that turns anybody who is subjected to it into a thing. Exercised to the limit, it turns man into a thing in the most liberal sense: it makes a corpse out of him. Somebody was here, and the next minute there is nobody here at all; this is the spectacle the Iliad never wearies of showing us.'
O'Leary's story is distinctively Australian, and I was completely engaged by its deft plotting, its realism and by the way it tackles the writing of violence, which as I know from my own work is a difficult issue to deal with, but in the end I'm not sure that O'Leary gets it quite right. What happens serves what Roland Barthes' calls the interests of the story, but I wondered if this character would actually do this. Or to put it another way, the plot and the characterization didn't quite mesh for me. In one of the many resonances that the journal throws up, Ron Pretty's poem, "plans" also tackles this issue in what struck me as a slightly more successful manner, but perhaps this is due to Pretty's foreshadowing of a violent act that is only contemplated and not yet actualised. Violence is difficult for all of us to understand. It's good that fourW has the courage to tackle it. Read "Nowhere" and "plans" and make up your own mind.
Nadine Brown's "Drowning", a story of a woman married to an evangelical pastor, is a fresh and fascinating study of how people can think one thing and do another. Jane Downing's "Don't Write it Down" is a story with considerable charm that deals with how a mother can hope to explain to her thirteen year old son, these lines inscribed in her copy of The Decameron: "To my only true love, my arms will always be open to you. Forever, Hal." Hal, as her son knows, is not her husband. This story utilises the sophisticated technique of a narrator talking to a narratee. Many of the other writers collected here are also particularly adept at their manipulation of narrative technique. There's the flashbacks and intercutting of Jarrah Dundler's "Caravan", which recounts a dramatic encounter with an Eastern Brown snake. In Beverley Lello's "Surfacing", Jay's childhood experience of almost drowning becomes the central metaphor for a relationship that is moving, human and memorable. Michel Dignand's "Chain of Events" demonstrates the centrality of power in writing dialogue. This wry, modern take on sexual politics resolves through a twist in the tale that I didn't see coming.
Maryanne Khan's "An Inconvenience" a charming, humorous and delightful story was the worthy winner of the fourW prize for fiction. Set in the south of Italy, it's a portrait of an old Italian woman who is shunted between cousins. I enjoyed the way this story critiqued the myth of the family, while presenting an old woman who survives, it seems to me, because of her ability to live in the moment.
Dorothy Simmons's story, "Try Me" also features an older single woman, Alice, a school librarian, who while fishing at night is confronted by drunken Year 11 students who call her a witch. In response she summons Macbeth, "by the pricking of my thumbs something wicked this way comes" and Sylvia Plath: "Out of the ash/ I rise with my red hair/And I eat men like air." This is a brilliant story which builds to a surprising twist, a twist which is… well, wonderful is the word that comes to mind.
There is much more in fourW that I don't have time to detail—it's a truly International magazine full of surprising, engaging and wonderful work. It's there for you to read, to ponder, to savour. My congratulations to everyone who performed the hard slog of producing it, or contributing to it. And unlike The Thirsty Crow's now infamous, uneatable pizza, it's hot stuff, but not too hot for you. You will, I promise, enjoy Issue 26 of fourW New Writing. It's my pleasure today to send it out into the world.
For information on how to purchase a copy of 4W New Writing visit the Booranga Writers' Centre website https://www.csu.edu.au/faculty/arts/humss/booranga/home
Four W 26 New Writing. Edited by David Gilbey. ISBN: 9780994202017